Arnaud Desplechin's Spiritual Adventures
Drama of the Gifted Child
by Dennis Lim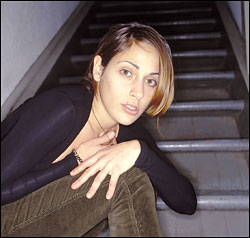 The birth of an actress: Esther Kahn's Phoenix
(photo: Richard Mitchell)
bristling hybrid of nature documentary and philosophy dissertation, Esther Kahn essentially casts an East End wild child in the role of Nietzschean superman. As played by Summer Phoenix, aspiring actress Esther is a divining rod attached to a battering ram, charging through her insensate imitation of life in a desperate attempt to awaken her nerve endings. "She wants to be sure of something, but she doesn't know what exactly, and I find that really moving," says director Arnaud Desplechin. "That sort of quest is usually given to intellectual characters. I love that there are great ideas going through Esther's mind even though she's not an intellectual at all. She thinks with her whole body."
The 41-year-old Desplechin came to international prominence with two features set among Paris's young, restless bourgeoisie: the crystalline Cold War elegy La Sentinelle (1992) and the three-hour My Sex Life . . . or How I Got Into an Argument (1996), romantic-comic angst in a Francophile-heaven jumbo pack. This English-language period piece would seem to be a radical departure, though close scrutiny reveals a kinship between Paul, My Sex Life's vacillating 29-year-old academic, and the intransigent Esther. As Desplechin puts it: "One is so talkative, you always want to yell at him to shut up. The other you want to say, please speak, just speak! But they're two skeptical persons who are wondering: Am I really sure that I do exist?"
Esther Kahn is adapted from a short story by Arthur Symons, a turn-of-the-century English author Desplechin discovered via an Ezra Pound dust-jacket quote. The director classifies Esther Kahn as a spiritual thriller (the original story is part of a collection entitled Spiritual Adventures); he cites as masters of the genre Martin Scorsese and Edith Wharton—The Age of Innocence is, not surprisingly, one of his favorite films. "Wharton had in common with Symons a great way of describing epiphanies, something that is spiritual but without God. I can hear the same voice in their books, a mixture of ironic and serious, digging into a very specific area of the soul."
Desplechin says he was concerned with issues of ethnicity as much as spirituality. "Symons says that Esther didn't particularly like to be Jewish; she would have preferred to be neutral. I love the modesty of this dream—just to be neutral! But she's not neutral." Esther's career begins in the Yiddish theater, what Desplechin calls "the birth of cinema. In London, there were always many non-Yiddish-speaking people in the audience. It was like silent movies—a lot of gesture, old plots transformed into simple stories. When I see Esther looking at the stage, I recognize myself looking at the screen at the age of 11." He pauses. "But if I identified too much with the character, I would lose what belongs to her. Summer was in charge of being Esther. I don't pretend to know exactly what's happening in her mind, but I know that I care about it. Summer knew."
"I was looking for a certain brashness," Desplechin says. But in London, where the casting process began, "I don't know why, it's more conservative, and perhaps it was more difficult to speak about what it is to be an immigrant, what it is to be Jewish. As soon as I started there, I knew I had to go to New York." (His alienation from present-day London proved reciprocal: When the movie premiered at Cannes two years ago, British critics greeted it with the special contempt reserved for foreign directors working on their turf; see also the U.K. reviews of Patrice Chéreau's Intimacy.)
The youngest member of the Phoenix acting clan began performing as a child, but had never come close to carrying a film by herself. For Desplechin, her tabula rasa qualities were perfect. "It was very moving to film the birth of an actress." Esther eventually triumphs as the star of Hedda Gabler; Phoenix, now 24, calls Esther "the role of a lifetime. I'll probably wait another 20 years for something like this." She adds, "What I admired so much about Esther was her passion. It's not about ambition. Expressing herself through this medium was the only way she could survive."
Desplechin rehearsed privately with the actors one at a time, so that "each arrived with a secret plot." Besides Truffaut's L'Enfant Sauvage, an acknowledged model, he and Phoenix studied documentary footage of "a pretty, young delinquent, quite stubborn, and stuttering so heavily she could barely say a word. I translated very precisely all the stuttering from French to English, and we rehearsed that interview, a girl in front of a judge. The way she was answering without words was really great. It was at that point that Summer started to enter into the role."
Esther Kahn was shot entirely in the East End, where Desplechin lived for months, scouting locations and immersing himself in research. "We looked at very early silent movies, photos, and paintings from the 1890s. I found out that the first time Hedda Gabler was performed on the London stage, Hedda was played by an American actress!"
Despite Desplechin's reputation for obsessiveness, the film's most astonishing scene, which involves a blankly crazed Esther chewing on a mouthful of glass, required just one take. "That was the only time on the shoot," says Phoenix. "Everybody goes oowww when they watch that scene, and I go, 'I wish we'd done more!' I feel like the glass shouldn't have crunched that easily in the back of my mouth." Desplechin begs to differ: "The way she did it was so ambiguous it was perfect."
Ambiguity is a valued commodity for Desplechin, who says he always allows for an element of surprise on set. "If it's written in the script that the actors are crying, I ask if they can play the scene laughing—maybe it will make more sense." The approach is telling: The psychology in Esther Kahn may seem opaque or even counterintuitive, but its sucker punches are coherent on a gut level. Early in the film, Esther whispers to herself: "I want to be revenged." "I don't know what she means by that," says Desplechin, "but I know she's right." The film purposefully renders moot the question of Esther's talent, notably in her final performance. "I was not filming Hedda; I was filming Esther, and that's why I suppressed the sound," says Desplechin. But he adds: "I do think she might be a great actress."
Is it fair to say then that Esther Kahn equates acting ability with personal hollowness? Desplechin laughs. "That's a paradox, but I think it's the right one. You need to be empty if you want to fill the stage. There's a great modesty in acting. Some people think that to be an actor, you have to show yourself, but perhaps you just have to admit that you are empty. When you are filmed, you have to give something that is so tiny and so fundamental at the same time. The Esther that Summer gave? It's Esther. It's finished. She did it."
Desplechin has completed two scripts since wrapping Esther Kahn—one "a sort of comedy called Kings and Queens," the other an adaptation of the Edward Bond play In the Company of Men (no relation to Neil LaBute), "a real film noir with a lot of baddies, about weapons dealing." The star, for her part, is unconcerned that her breakthrough performance is not only uncategorizable but perhaps definitive. It's hardly an ingenue's typical résumé booster (reviewers have written it off as bad acting, or worse, non-acting). "Esther might be slightly animalistic, and dumb, if you will," says Phoenix, who will next be seen in Henry Bean's The Believer. "But to me, she's a diamond in the rough, a phenomenal force, a Sarah Bernhardt surviving against all odds. People can confuse me with Esther. I don't mind."
*
Esther Kahn
Arnaud Desplechin
Synopsis
Arnaud Desplechin's third feature (following La Sentinelle and My Sex Life) is his boldest and most surprising yet. Esther (Summer Phoenix) is the daughter of Jewish immigrants who live in a London tenement at the turn of the century. An outcast in her own family, Esther takes to the stage: under the tutelage of a theater critic (Fabrice Desplechin) and a down-at-the-heels actor (Ian Holm, in one of his finest performances), she finds a life for herself in the theater. Few contemporary filmmakers are so attuned to nuances of behavior and character as Desplechin, who achieves something quite unusual and breathtaking with his lead actress, who can tremble like a bird one minute and roar like a lion the next. This is not a movie about finding fame and fortune on stage. It's about the terrifying yet liberating reality of acting, and the painful act of self-recreation, culminating in an extended backstage sequence as powerful as anything in the work of Ingmar Bergman.
"Set in London at the close of the 19th century, the film tells the story of Esther Kahn (Phoenix), an introverted working class Jewish girl who has trouble fitting in with the rest of her East End family. Only truly feeling alive when she visits the theater, Esther resolves to become an actress, taking whatever two-line parts or understudy opportunities she can find. She also finds a caring mentor in Nathan Quellen (Holm), a not-so-hot actor but a fine teacher who helps her improve. Despite her hard work, Esther still feels emotionally empty and, heeding Nathan's advice to go out and gain some life experience - like taking a lover - she seeks out Philippe Haygard (Fabrice Desplechin), a womanizing French playwright."
Reviews
"Arnaud Desplechin's Esther Kahn is the eccentric sort of film maudit. Masquerading as a doomed international co-pro, it is an English-language period piece set in late-19th-century London, by a French director and starring an American actress, Summer Phoenix, best known for her family name. When it premiered at the 1999 Cannes Film Festival, Esther Kahn was hailed by a few French cineastes, especially those associated with Cahiers du Cinéma, and derided by nearly everyone else. [...] Indeed, Esther Kahn is a baffling experience, not because, at nearly two and a half hours, it feels overextended [but] because it solemnly advances a daringly preposterous thesis. Acting cannot be acted. This is a movie about the nature of acting - or, more specifically, the nature that creates an actress - centered on what appears to be a spectacularly unconvincing title-role performance."