Shopgirl
By Marisa Kula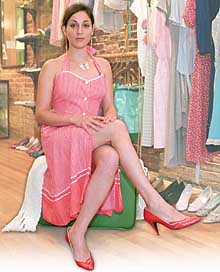 June 1, 2003 -- Actress Summer Phoenix (sister of Joaquin and the late River) is lounging in her new boutique, Some Odd Rubies, when her boyfriend, Casey Affleck (brother of Ben) suddenly smothers her in kisses. Across the room, actress Rashida Jones (daughter of Quincy) peeks into a jewelry case and model Catherine McCord (no famous relations to speak of) examines an open-backed halter top.
"All these b - - - - - s are our friends, but it's not like they're going to buy anything," says Phoenix, eyeing Jones as she tries on a pair of dangly gold earrings. "Don't steal anything, Rashida!"
Welcome to Some Odd Rubies, the Lower East Side shop Phoenix co-owns with fellow fashion obsessives Odessa Whitmire (Matt Damon's girlfriend) and Ruby Canner, a childhood friend. The bulk of the stock is thrift-store finds that Phoenix, Whitmire and Canner have reconstructed - adding a ribbon to a top, or transforming a muu-muu into a sexy, low-backed dress.
Canner says the idea for a clothing store was just "childhood chatter" until last summer, when Phoenix and Whitmire met up in London, did lots of shopping, and decided to go for it.
"Odessa kept going, 'Ooh! Where did you get that?' and I was like, 'Dude, at the Salvation Army.' I think I turned her on to what you could do."
No matter that none of the owners can sew: The ladies hired a seamstress so they can spend time with their clientele.
"We're completely open to people bringing in stuff from their closets. We'll spend a day with them, drinking champagne or coffee and working it out," says Phoenix. "When we're done, I've been asking people, 'What would you pay for it? What do you think it's worth?'"
Some Odd Rubies, 151 Ludlow St.; (212) 353-1736