ARCHIVE
29-04-Thank you very much Haruka for sending this to me :)
Article from Time Out New York March 21-28.2002 issue, Summer Shares HERE
27-04-Matt Damon, the Oscar winning star of Good Will Hunting, has become the latest Hollywood celebrity to tread the boards in London's West End. Taking over from StarWars actor Hayden Christiansen last night, he is starring in This is our Youth, playwright Kenneth Lonergan´s first work. Showing at the trendy Garrick Theatre, the hit play is about a group of neurotic, drug-addled New York teenagers, and has been highly acclaimed by the critics as well as drawing huge crowds.

Matt has brought a group of New York friends to act alongside him. The play´s producer Clare Lawrence explained, "They're all part of the same group of friends in New York and they decided they wanted to come and do the play together". Amongst the star-studded cast is Casey Affleck, brother of Ben, and Summer Phoenix, sister of Joaquin and the late River.
From HERE
26-04-An article about "This Is Our Youth" with a picture with it from the cast before Summer, Casey & Damon are taking over HERE
25-04-Hollywood's Damon Latest to Tread London Boards HERE, something about "This Is Our Youth"
23-04-I found this article about Esther Kahn, Summer says something about the movie in it & also this picture was with it HERE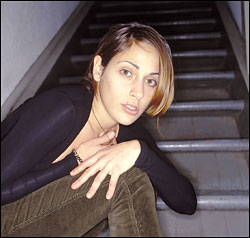 AAlso this article called Summer diet for Phoenix with two nice pictures with it HERE
A& an other interview My favorite table, a very nice interview HERE
22-04-Damon rejected by top spot From here


by Richard Simpson
Hollywood actor Matt Damon was dealt an embarrassing blow at the weekend when he was turned away from one of the capital's most celebrated restaurants.
The Ivy, which reportedly banned Liza Minnelli recently for ranting at staff, took a call from Damon on Friday wanting to treat a party of eight of his theatre co-stars to a meal on Saturday night.
He was told that he could only get a table for himself and three friends. But banking on talking round staff with his celebrity status he turned up with eight friends anyway.
To the Talented Mr Ripley star's shame, he was turned away at the door with the suggestion that he might like to try another restaurant a short walk away. With that, Damon, 31, and friends Summer Phoenix, 23, the sister of the Gladiator star Joaquin and the late River, and Casey Affleck, 26, the brother of Ben Affleck and five others, walked to Sheekey's fish restaurant in Covent Garden.
The blow was doubly hard for Damon as he had planned the meal to celebrate their first day off rehearsals. Damon, Affleck and Phoenix have been told by the producers of This Is Our Youth at the Garrick Theatre on Charing Cross Road that they must refrain from late-night drinking if they are to make the West End show work when it debuts in less than two weeks. Their decision to dine at The Ivy was to be the one extravagance of their stay.
A source at The Ivy said: "There is a six-month waiting list for a table here - though we do keep three tables for regulars to book at short notice, and for when celebrities are in town and book very late. In this instance, Damon was turned away with his friends and tried to sweet-talk his way in.
"It didn't carry any weight since we only have one table which can take nine and that was booked. We're certainly not in the business of rearranging people in the restaurant just to accommodate a Hollywood star."
The trio, who have been in London a week, had been working 12-hour days and turning-in early every night at their suites at the Covent Garden Hotel in Monmouth Street. On their 18-day stay, they are paying a special luxury room rate of £220-a-night - or £11,880 for their entire stay. After that, the theatre is putting them up in chic London apartments.
They have been told that there is no time for partying in the capital. A source on the show said: "They are being told in no uncertain terms to get some sleep rather than go out when they finish rehearsals each day.
"Matt, Summer and Casey take over from Hayden (Christensen), Anna (Paquin) and Jake (Gyllenhaal) in two weeks and there's still a lot of ground to cover. There's no suggestion that they won't be up to scratch by the time the curtain raises, but we are all aware there is a lot to do."
Ironically, their regime couldn't be further from the plot of the play they are rehearsing which culminates in a hedonistic drug and drink-fuelled spending spree.
HERE another article about it
20-04-Summer is in the magazine Empire from May Thanks for this news Marjorie
Summer Phoenix
The seasonal pro or jumping the queue in Dinner Rush
Summer Phoenix is the kind of girl who could charm the birds out of the trees. But the stamp her size fives if she didn't like their song. Indeed, the youngest member of cinema's funkiest acting clan is, by her own admission, "tough, hard-nosed and not easy to fuck with". Still, as Empire chats with her over coffee, a softer side slowly reveals it self. This is a girl who calls her family every day, lives next door to her brother (whom she endearingly refers to as Joaq') and who , despite an unorthodox, sorrowhat hippie, upbringing was, "definitely Stacy or Tiffany when my sister and me played house". So far being a tough cookie has served her well. In this month's Dinner Rush she sparkles as a hard as nails waitress with artistic ambitions, and she has also amassed both rave reviews and an independent Spirit nomination Stateside for her role in the upcoming The Believer, a story about religion and indentity. Although that's not to say that al this serious acting lark can't get a little wearing sometimes. "I want a genius director like Wes Anderson to do an action flick with" she says. "I mean, how fresh would that be?" Hmm, Rushmore meets Rush Hour? It could work
you can see the picture HERE
10-04-Apparently Matt, Summer & Casey will take This Is Our Youth over from 25 april instead of 22 april
06-04-Here 2 more pages for "This Is Our Youth" with Summer in it 1 & 2
Now Playing
Garrick Theatre From Mar 2, Mon-Sat 7.30pm (Mar 2, first perf 3pm, press night Mar 15, 7pm), mat Thu & Sat 3pm, ends Apr 20 £10-£35
The new cast will take over from 22 April until 15 June.
05-04-*From HERE
Matt Damon Makes London Stage Debut
Fri Apr 5, 5:04 AM ET By Matt Wolf
LONDON (Variety) - Screen actor Matt Damon makes his London stage debut this month in "This Is Our Youth," replacing Hayden Christensen ("Attack of the Clones") in the Kenneth Lonergan play at the Garrick Theater.At the same time, Casey Affleck and Summer Phoenix will step into the roles currently being played by Jake Gyllenhaal and Anna Paquin.Lonergan's play opened March 15 in London to mostly excellent reviews, including general raves for a cast of theatrical neophytes, two of whom -- Gyllenhaal and Christensen -- had never done a professional play.Paquin, who won an Oscar for her childhood role in "The Piano," had only one previous legit credit, an off-Broadway play by Rebecca Gilman late last year.
*From HERE
LONDON (Variety) - Screen actor Matt Damon makes his London stage debut this month in "This Is Our Youth," replacing Hayden Christensen ("Attack of the Clones") in the Kenneth Lonergan play at the Garrick Theater. At the same time, Casey Affleck and Summer Phoenix will step into the roles currently being played by Jake Gyllenhaal and Anna Paquin. Lonergan's play opened March 15 in London to mostly excellent reviews, including general raves for a cast of theatrical neophytes.
03-04-All the pictures from Joaquin & Topaz / Joaquin & Summer from Pre Oscar Party's that were on this page are now at Preoscarpartypage
& here another one of Joaquin & Summer at the West Independent Spirit Awards from HERE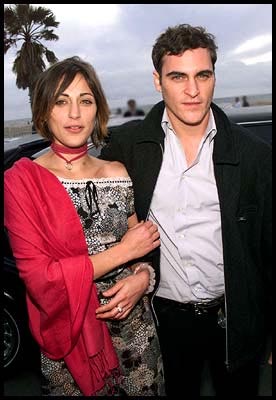 A family affair for Summer and Joaquin Phoenix.
31-03-Interview with Summer HERE Here comes Summer Thursday March 28, 2002 The Guardian
27-03-Pictures of Summer & Topaz HERE thank you Haruka for these pictures :)
24-03-HERE Summer Phoenix & Casey Affleck
2002 IFP/West Independent Spirit Awards - Arrivals
22-03-Summer is in the magazine "The Face" April
Sister act, too
You know about River and Joaquin already. 'If you ask me about my family....' warns Summer Phoenix
Summer Phoenix has played a heroin addict, a doomed 18th-century actress, and a quasi-fascist sado-masochist. The 23-year-old's recebt roles, then, suggest an empathy with life's darker side. The real Summer Phoenix, dressed in black sweater and red cords, grins. 'If you write that, I'm gonna kill you! I'm not dark! I can do jovial. Dinner Rush is light, right?' The film in question is her latest screen apperance, n wich she plays a sardonic waitress-cum-tortured artist alongside Sandra Bernhard. Summer Phoenix is, of course , one of those Phoenixes. 'I go into interviews like, "If you're going to ask about my family, I'm going to answer in a way I deem fit" I don't owe anybody anything.' After an early kiddie career (Murder She Wrote, age six), Phoenix spent her mid-teens in Costa Rica, then returned for several minor roles (The Faculty), ad campaigns and pop promo (The Catherine Wheel and Spacehog). I've been plugging away for years, but the misconception is "Ooooh, overnight success!" Success means an eerily masochistic turn in The Believer, the title role in period tragedy Esther Khan, Samantha the posh Texan junkie in MTV movie Wasted, and her own glam private life - co-habitant and Ocean's Eleven star Casey Affleck is 'perfect, so amazing, just fucking wonderfull!'. So, life doesn't sound too dark, then? 'Exactly! I have experiences that are fun and light and happy, so as an actor I think I can do that.' Summer Phoenix pauses, then qualifies, 'I know I can do that.' Kevin Maher. (Click HERE to see the pictures large)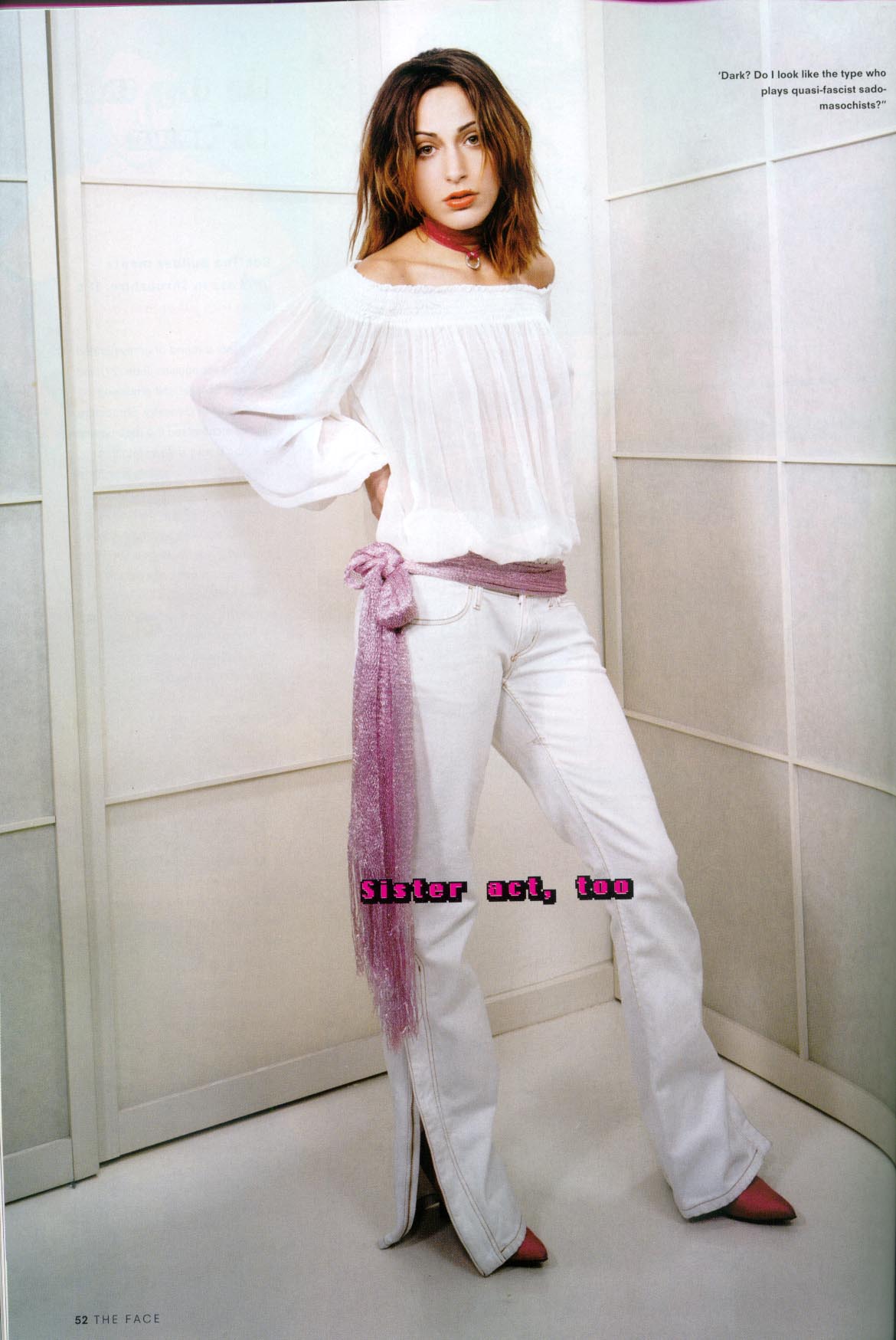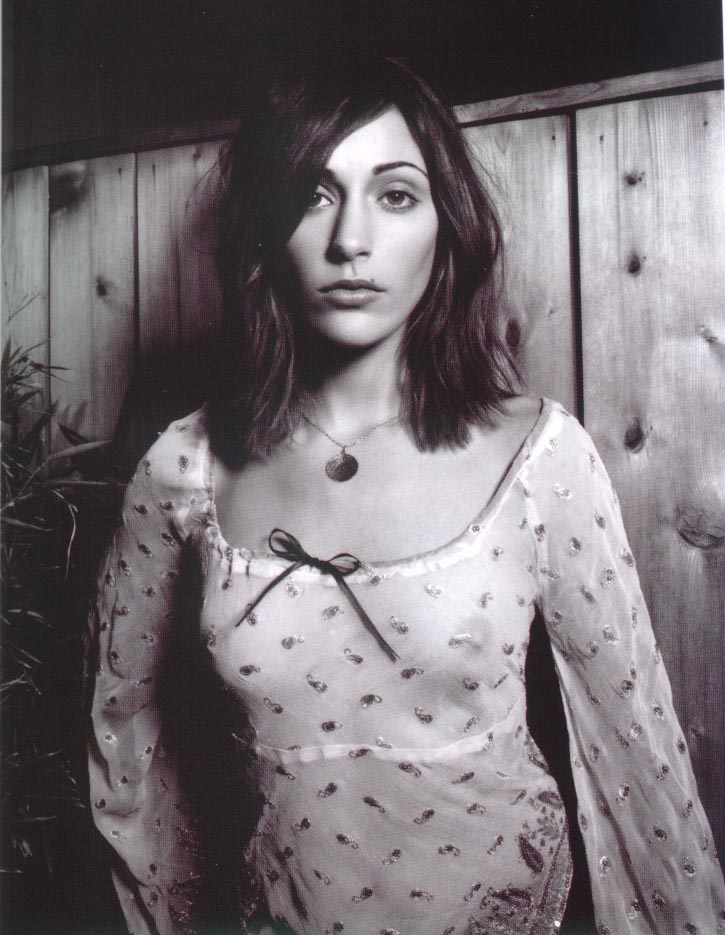 21-03-*Summer & Joaquin
Women's Wear Daily "White Hot Diamonds" Pre-Oscar Party 20-03-2002 in LA at The White House - Inside (Small pictures from Wireimage)
You can see the pictures here Preoscarpartypage
*Joaquin and Summer
Ron Galella Book Party
You can see the pictures here Preoscarpartypage
17-03-Summer news HERE about her movie The believer
HERE you could have won some free tickets to see Dinner Rush, a bit late now :lol, there is also a little picture on that page with Summer on it.
13-03-Wasted shall air on Sunday March 17 - The following interview is with NEWSWEEK's Marc Peyser:"Wasted" is about heroin deaths at a high school. Did River's overdose have anything to do with your decision to be in the film? Honestly, I didn't even think about it. I could see how people would wonder about that, but this movie was so much more about, one, working with friends and, number two, about a problem that's really apparent and that has no prejudice and sees no status or color. It's become an epidemic. And it's sad for the people that are, you know, the parents of these children and the friends of these kids that are left behind wondering. So it would be wrong to think that this has become a cause for you. That would be very wrong. I'm not taking up any causes. Were there times when you wanted to have a normal name like Susan? Yeah. When we played house when we were kids, [my sister] Liberty and I were always like Stacy and Tiffany—those were our names. When you're a kid, you don't recognize the beauty in difference and being unique and special. Yeah, we were odd and different, but everybody sort of wanted to know why, and what made us that way and could they have some of my blue corn chips. Have the names become appropriate? Are you bright and happy? No, my parents really should have named me Winter.
ADo you have any plans to work with you family?
Actually, my sister [Rain] did a song for the Wasted soundtrack that I contributed to, that I'm really excited about. She took something old I did on the piano, sampled it and wrote this incredible song.

Do you guys have a band?
No, I play mostly by myself, but my brother plays a lot of music, too, and I'll play with him and my sister sometimes. It's familial.

So you play in somebody's house versus a public gig.
Exactly. And sometimes we'll record [together]. But this is the first time the public will hear my music. Which is cool.
AHERE more about the movie, the story and when it will be on MTV
AThis is a piece about Wasted out of the interview with Summer in the magazine Details read HERE the whole article (at the end of the page)
In March, Phoenix takes a swing at the Gen Y masses with a starring role
in the heroin comedown Wasted, a made-for-MTV movie. Wasted plays like a
mediocre episode of My So Called Life (jittery quick-cuts, crusty
dialogue, and a inescapable nouveau-rock sundtrack), but phoenix
transcends the trash as a mopey suburban smack addict struggling to get
clean - a subject important enough to her to endure working for MTV.
"I don't even watch TV," she says. "But I appreciated the fact that
they're trying to be socially conscious."
AAnd here a very stupid reporter:
UNCOMFORTABLE MOMENT: During a session to publicize MTV's drug abuse movie, "Wasted," airing in March, a seasoned reporter, who obviously has been living under a rock for years, asked a very awkward question of Summer Phoenix, younger sister of the late River Phoenix.
Did you ever know anyone who has died of an overdose, the reporter asked.Phoenix demurely said she didn't know of anyone who had died of an overdose.Then Brian Graden, president of MTV programming, abruptly ended the session, which had barely started.The query hit close to home for Summer.
ASunday "The Believer" (8 p.m., Showtime). Inspired by a true story, the film examines the life of a man who is Jewish and a neo-Nazi. Ryan Gosling stars along with Summer Phoenix (of "Wasted").
"Wasted" (9 p.m., MTV). In this made-for-MTV movie, Summer Phoenix plays a student who is caught up in the heroin scene at her school. The film is based on real events. A panel discussion will follow the airing.
I found something about that panel, but can't open the link http://www.ncta.com/pdf_files/102skedforweb4.pdf It says Panel including: Summer Phoenix, director Ozzy Osborne and Brian Graden ...
06-03-You can vote again for The Sexiest Vegetarian alive at PETA
This time he must win :lol, so start voting for him at PETA Results will be posted on May 1, 2002. You also can vote for Summer Phoenix